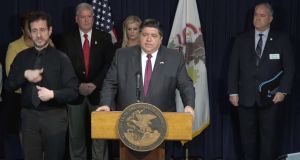 At 3:00 p.m. today, Governor Pritzker issued an Executive Order in response to COVID-19 (COVID-19 Executive Order No. 8.)  The Executive Order is effective beginning at 5:00 p.m., Saturday, March 21, 2020 and extends through April 7, 2020.  The Executive Order states the following:
All people should stay at home, practice social distancing requirements and are only allowed to leave your home for Essential Activities, Essential Governmental Functions or to operate Essential Businesses and Operations.
Law enforcement offices are to cease enforcement of evictions for residential properties; this does not relieve any individual of the obligation to pay rent, make mortgage payments or to comply with other obligations they may have as tenants or mortgagees.
The link to read the official Executive Order #8 COVID-19 is below:
To the residents and business owners in Maple Park, please know that during this trying time, Village Staff is continuing to work for you.  The Police Department will continue their revised response to calls, building inspection services will still be available, Public Works Staff will continue to operate as normal regarding water, sewer and street related activities.  Village Administration will be working remotely and will continue to take phone calls and attempt to conduct daily activities during normal business hours.
Please keep an eye on the Village's web site for updated information on Village operations!
We are resilient and together we will endure and move past this; please take care of and be kind to each other, check on an elderly neighbor or offer to pick up groceries for them so they don't have to leave their homes.  Read a good book, do a craft with the kids, take a nap or clean out the closet you've been meaning to.  A little bit of self-care during this stressful time is a good thing!
Take care and stay healthy!
The Village of Maple Park