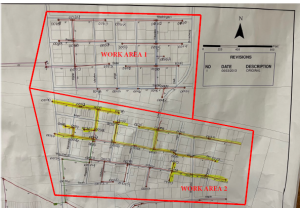 TELEVISING PROJECT UPDATE JUNE 10, 2022
The Village's contractor, Visu-Sewer, is in the process of cleaning, inspecting and televising the sanitary sewers.  All the sewer mains highlighted in yellow have been cleaned, inspected and televised.  Visu-Sewer plans to finish Work Area #2 on Monday, June 13, 2022 and then move into Work Area #1.  The Village will be placing Resident Information Bulletins on the doors of the homes in Work Area #1 on Monday.
Once all the sanitary sewers have been cleaned, inspected and televised, Visu-Sewer will then do the same to the storm sewer system in Work Areas #1 and #2.  We'll send out additional Resident Information Bulletins to keep residents informed of the status of this project.
If there are any problems as the work is being completed, please do not hesitate to speak with the crew on the street, they are experienced in this process and happy to assist if a problem arises.  As always, you can contact the Village office at (815) 827-3309 if needed.